Announcing a New Crowdfunding Challenge!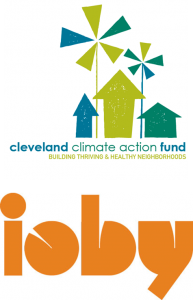 In partnership with ioby, the Cleveland Climate Action Fund (CCAF) has launched a new crowdfunding challenge. The CCAF and ioby want to hear your idea to make your neighborhood stronger and more sustainable.
We're awarding up to $5,000 in matching funds to residents and community-based organizations for outstanding projects that take climate action. So for example, if your project raises $1,500 through crowdfunding and is chosen for a match, the CCAF will provide an additional $1,500 to help make your project a reality.
More information can be found here.
DETAILED TIMELINE
Mon, September 26: Deadline for interested leaders to submit idea forms at ioby.org/cleveland-climate
Tues, October 4 at 12:30pm: ioby leads first required grassroots fundraising training by webinar
Tues, October 11: Deadline for leaders interested in matching funds to post their campaign pages (with ioby's help)
Thurs, October 13 at 12:30pm: ioby leads second required training by webinar and helps leaders post their campaign pages
Mon, October 17: Fundraising campaigns are activated!
by Thursday, November 10: Winners are notified of their grants. The match is activated on winning groups' pages.
Friday, November 18: Deadline for all leaders to wrap up their fundraising campaigns.
November 21 – December 8: Checks are disbursed!
Learn more and help develop your project idea at the 2016 Sustainable Cleveland Summit on September 21st and 22nd.
For more info on the normal grant application (which is also due November 18th), visit here.
Can't wait to hear your ideas!